I have to say, feeding a toddler is a serious challenge.

When we first starting introducing food to Sebastian about a year ago, we were really proud of ourselves for getting him to eat all sorts of healthy foods. He gobbled peas and carrots and sucked down kale purees with glee. This isn't so hard, we thought. Our kid loves vegetables, B and I congratulated ourselves as we high-fived.

Ooh, boy. What newbs!

We clearly didn't know that the real challenge isn't getting a baby to eat things, but to get a toddler to eat things that they suddenly and inexplicably don't like anymore. I shared before what I do with leftover bananas when they fall out of grace here. But now I want to talk about how we make sure our eighteen month old kiddo gets all the nutrients he needs, even on days when he isn't interested in eating much of anything.


Mostly we try to serve Seb some of whatever we're eating for our meal, and supplement with his favorite fruits and veggies. Our go-to's right now are roasted sweet potatoes, applesauce, blueberries, raisins, and grapes. Sometimes, that works! Other times, he is only interested in squishing food around and throwing it on the floor. While we try to discourage the mess making, we also know trying to force a toddler to eat his dinner is a lost cause.
We recently were introduced to
Gerber® Good Start® Grow Toddler Drink. It is formulated for toddlers like our kiddo to fill in the nutrition gaps caused by incomplete (ahem, rejected) meals. Of course, our first approach will always be to offer wholesome food, but on those days when our meals falls a bit short, it is nice to know there is an option that he will readily accept.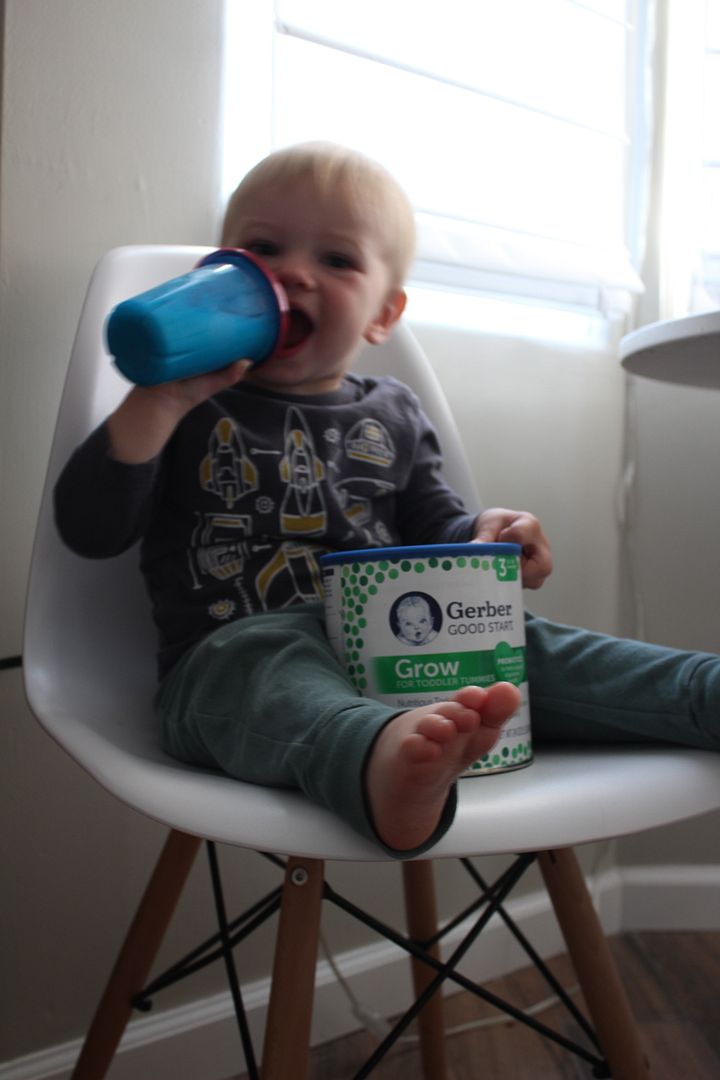 It mixes easily with water and Sebastian happily gulped it down the first time we offered it to him, so it must be pretty tasty! It is not intended to be a meal replacement, but rather a supplement to a healthy diet.
Gerber® Good Start® Grow Toddler Drink
includes probiotics, Iron, Vitamin C, D, and E, Potassium, and DHA. It is also GMO free, which I think a lot of moms would feel good about when feeding their toddlers. #formulaforhappiness
Now the fun part! In partnership with Gerber®, Ceci Bean readers have a chance to win a "Welcome to Toddlerhood" kit which will include a sample of this product for your family to try and other surprise goodies! Open to U.S. residents only.
a Rafflecopter giveaway
If you have any best practices for getting picky toddlers to eat or if you've tried Gerber® Grow Start® for your child, please share in the comments!