This post contains affiliate links for products mentioned.
In preparation for an upcoming family trip across the country (wish us luck!), I've been looking for ways to make travel easier on Sebastian. Since mealtimes can be tricky even in the best circumstances, snacks for toddlers are essential to getting through a long and busy day.
Now when determining what snacks would go in each section, I started with our usual daily snacks (toasted oat cereal, raisins, nuts) and then looked for some new options I could mix in and try out now and see if Sebastian liked them. My nearest grocery store doesn't have a large selection of toddler specific foods, so I headed to Target where they have a large assortment of
snacks for little ones
.
It was there that I spotted
Gerber® Lil' Beanies™
. I picked up the two flavors they carried (Original and White Cheddar & Broccoli). I was immediately intrigued by the information I saw on the package. Lil' Beanies™ are made from navy beans and each serving delivers 2 grams of protein (9% daily value), 1 gram of fiber, and 10% daily value of Vitamin E. They are baked, not fried, and they are not made from genetically engineered ingredients. I try to serve my kiddo snacks that provide him with nutrients and not just empty calories, so the protein and fiber in these snacks sounded like a good choice. And they certainly looked like something Sebastian would enjoy, so I brought some home for him to try out.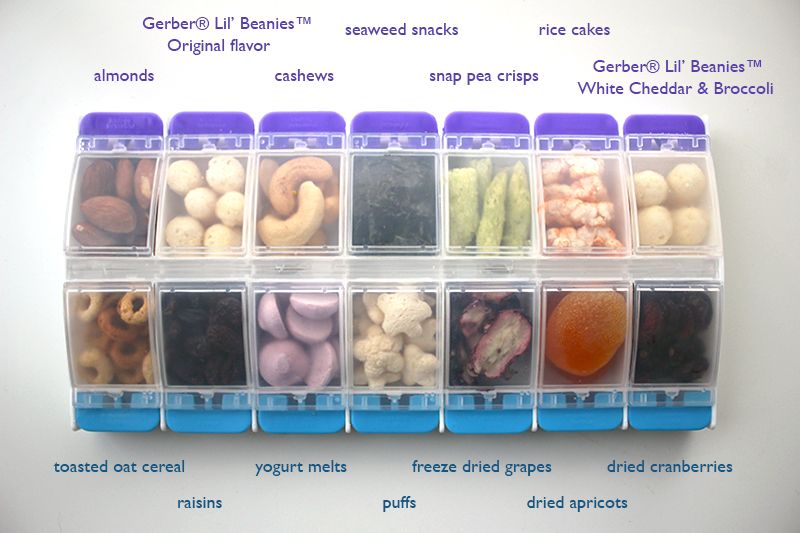 For the snack pack, I wanted to create something that was easy to throw in our carry-on bag that provided a lot of options. I loved the idea of using something with small compartments for several reasons. First, the food stay separate which would help us avoid weird flavor combos like snap pea and raisin. Secondly, it might limit mess making on the plane since the most that could be spilled at once would be one section. And last, what toddler doesn't like to endlessly open and shut tiny doors? It practically does double duty as a toy!
Here is what I included in the snack pack today.
I realize a few of these (the nuts particularly) might not be a good choice for all children. Include what works best for your child and make sure they are seated and supervised when they are eating from the snack pack. You know their readiness for certain foods best.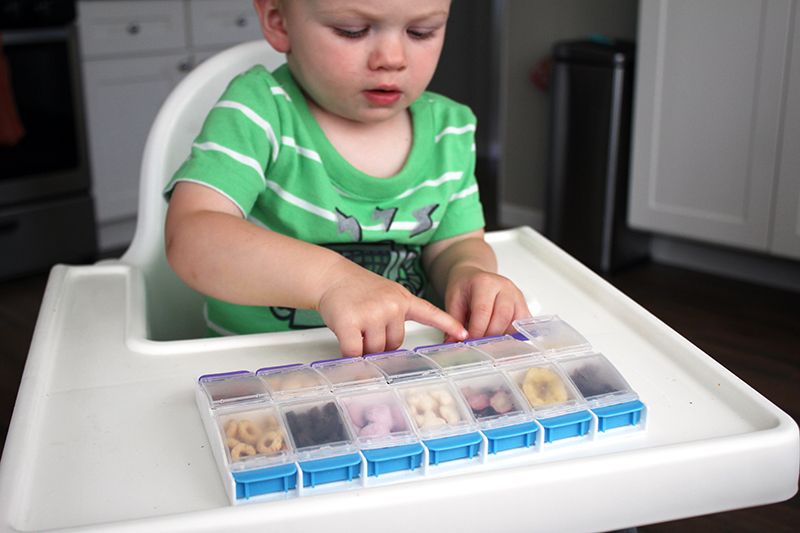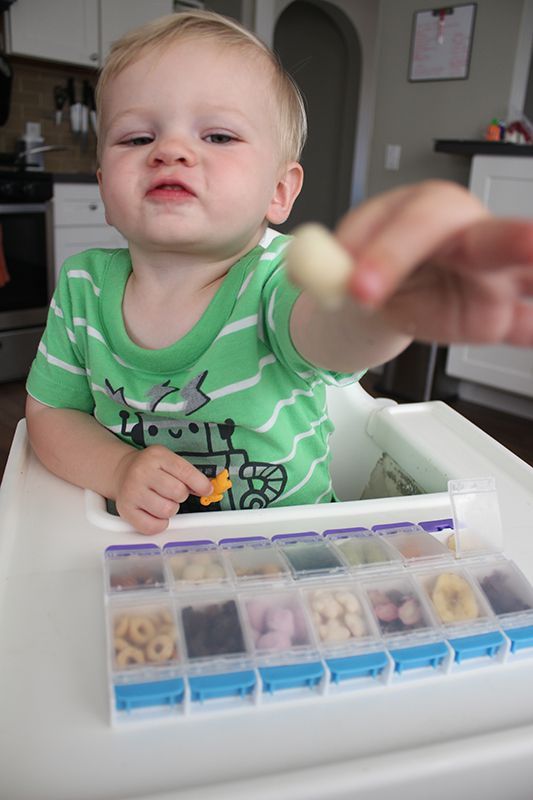 He enjoyed his Gerber snacks and wanted to share them with his mama too!
We've already taken the pack to the park a couple times and I found it to be a really convenient way to bring a lot of snack options with us without taking up too much space in the bag. And Sebastian was excited to discover new additions to the box. I would call that a #GerberWinWin.
While I'm not the first person to come up with this snack pack, this is my take on it.
I purchased a
14-compartment pill box
(similar). Although it made no difference to Sebastian, I wanted it to look a little less pharmaceutical, so I scrubbed off the day labels from each little door with a magic eraser.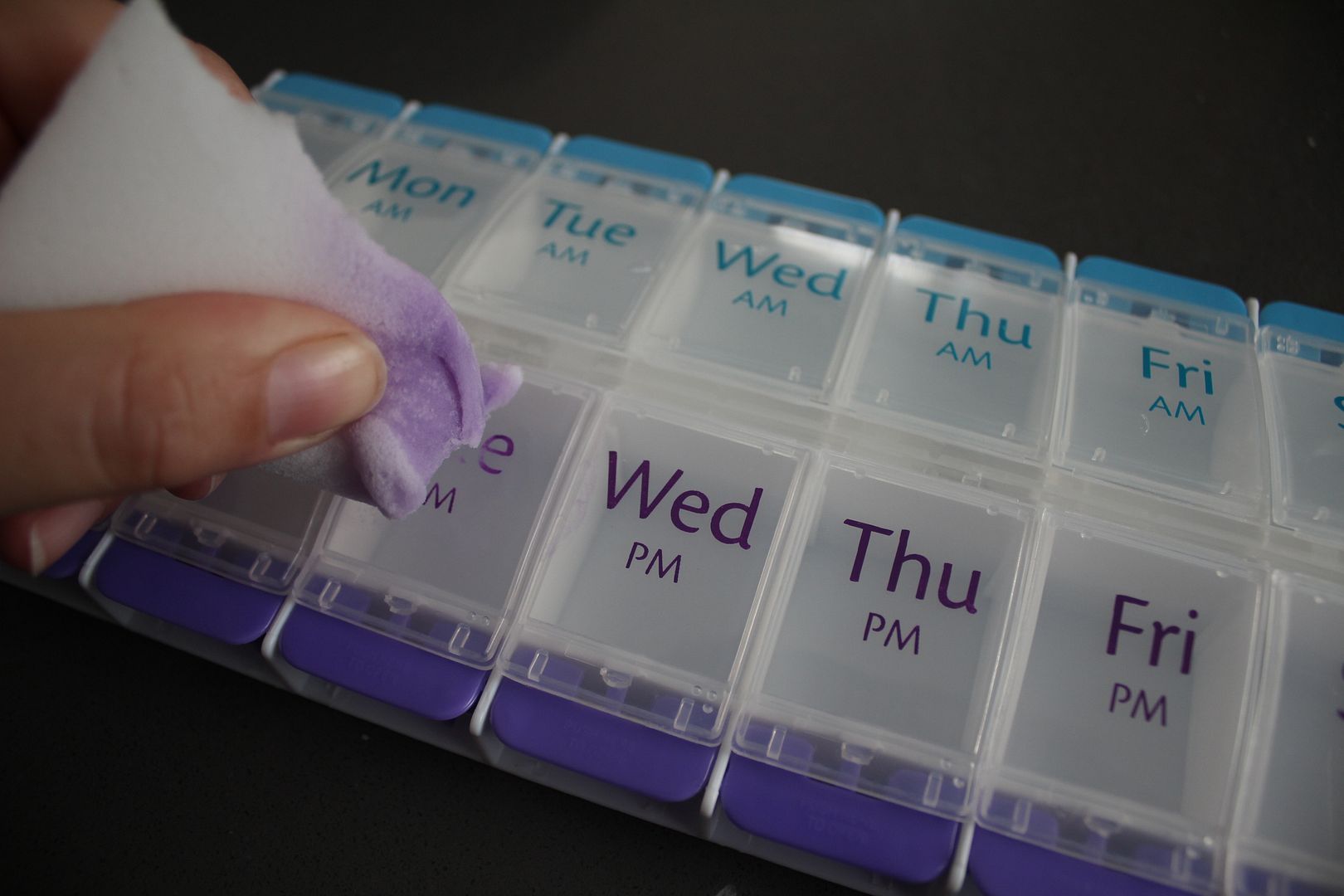 Smaller snacks fit easily and larger ones were cut or broken in half to fit more easily into the compartments.
I am glad to have mess-free and nutritious snack options all figured out for our trip. It might not eliminate all stress during our long flights, but it's certainly a step in the right direction. A hangry toddler is never an ideal travel companion.
Oh, and be sure to check out my
previous post
for a chance to win a Gerber® "Welcome to Toddlerhood" kit!
Many thanks to
Gerber®
for sponsoring today's story and making it easy to eat healthy on the go!