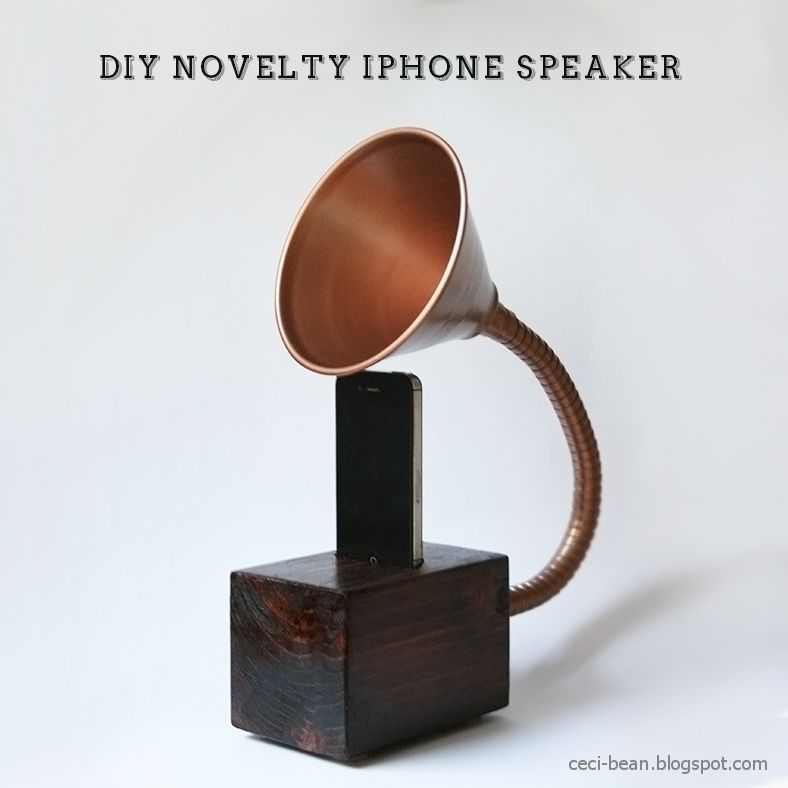 Have you seen those gramophone speakers for iPhones at places like
Restoration Hardware
and
Pottery Barn
? I think they are just the coolest things. Super sculptural and they actually work! I really wanted to recreate one, but I could not figure out where to find a horn that was a reasonable price.
So I started thinking about what else I could use to recreate this. And then I realized, a funnel might do the trick! I picked up a galvanized steel funnel with a flexible tube (like
this
one) at my local automotive shop. I sprayed the funnel with a bronze spray paint to fancy it up a little.
While the paint was drying, I explained to B how I imagined the base would need to be drilled. He went out to the garage and 10 minutes later he had a "prototype" ready to go.
Basically, he used his dremel with a 3/4" spade bit to bore a hole into the back of the base (a piece of Redwood 4x4, approximately 6" long), about half the depth of the base.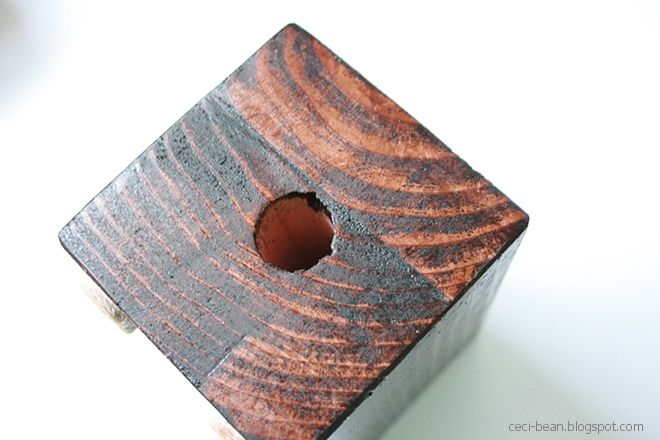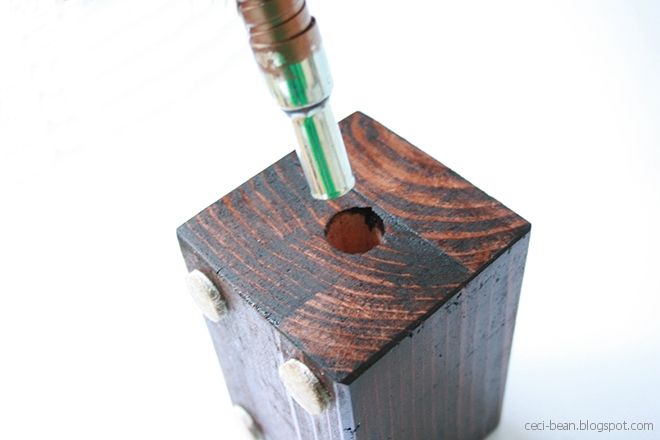 Then, he marked out on the top of the base where the iPhone would sit. (It should be situated over the end of the hole you just made for the funnel)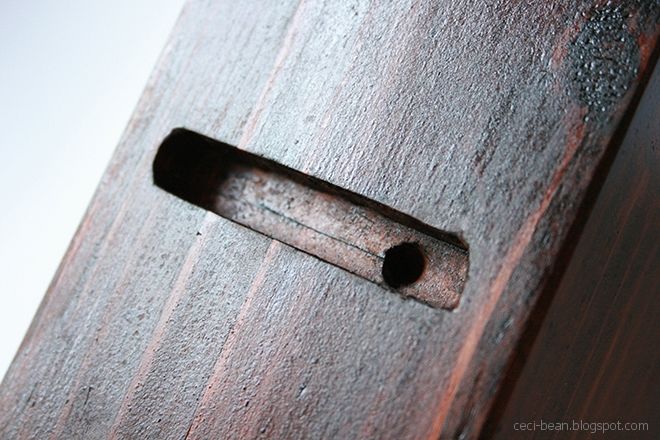 Using a drill with a 1/4" drillbit, B started at the right edge of the marked out area and drilled down at a diagonal to meet the other hole.
Then using the dremel with a router bit, he cut away the section where the iphone would sit, which positioned the opening under the iphone speaker.
We sanded and stained the base (
Mission Oak
stain).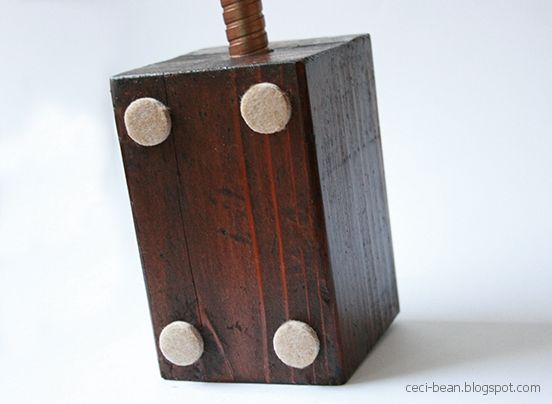 As a last step, we added little felt feet to the base and put the funnel tube into the hole.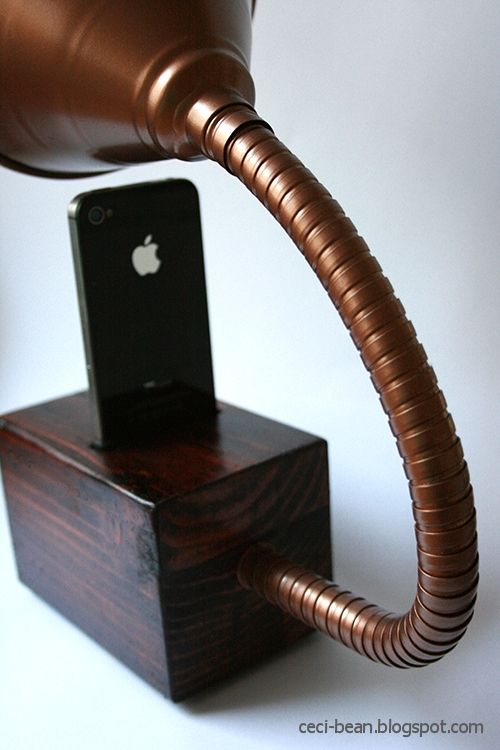 Ta-da! A gramophone inspired passive speaker for the iphone!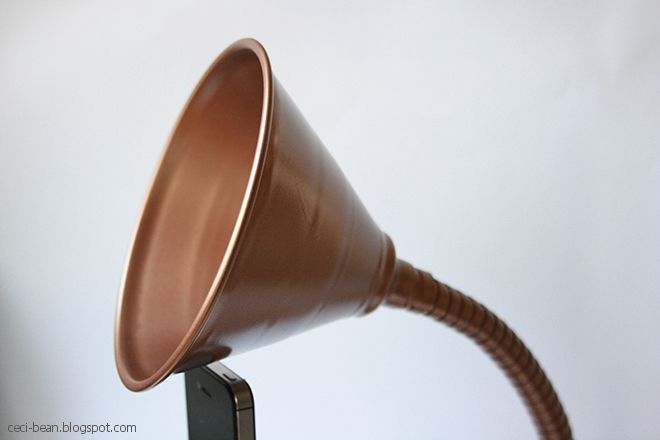 We popped the phone in the base, turned on iTunes, and the sounds started coming out of the funnel!
It was pretty cool. Ultimately, the sound was not as amplified as much as I'd hoped, which is why I named this a "novelty" speaker. I mean, it won't replace your Bose sound system or anything, but you can bend the funnel to project the sound in different directions.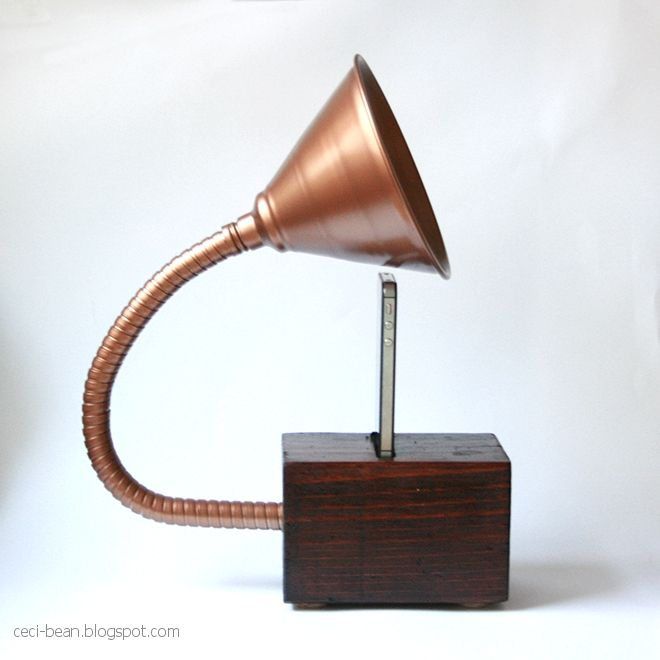 I think this could be a great Christmas gift for a music-loving friend. The materials are under $10 bucks (wood, funnel) and you can paint or stain with whatever you've got on hand!
So that's it. Pretty and pretty unique. Do you have anyone on your list who you'd make this for?